Français ici !
Exercise 1: Forward, turn
Click on , then write Write the following code in the zone to the right of the screen then click on

 !

                forward(50)
                left(90)
                forward(100)
                right(45)
            
You should have seen a turtle move forward by a distance of 50, then turned left 90 degrees, moved forward again by a distance of 100 and finally turned right of 45 degrees.
Try now the code containing the first line only (delete the other ones), what does this code do? Don't forget to click on

. Try now the code with the two first line only, same question. Add now the third, run the code, understand why the turtle moves like that, add the fourth line, run and understand the move of the turtle.
With the experiments you just did, explain in plain english what the forward command do? What about the left and the right commands?
If you want to have two different windows to code and follow the tutorial, click on , then in a new windows go on this page. One way to do that is to right click on the link and select open in a new window from the menu.
I suggest to put the two windows next to each other, around ⅓ of the screen for this windows and therefore ⅔ for the code and the rendering of the turtle.
Exercise 2: Turtle shortcuts
To write forward is exhausting, there exists a shortcut fd. for Left Turn and Right Turn, there exist the shortcuts lt and rt.
What is this code doing?

                fd(100)
                lt(120)
                fd(100)
                lt(120)
                fd(100)
            
And this one?

                fd(100)
                lt(180)
                fd(200)
                lt(180)
                fd(100)
                lt(90)
                fd(50 + 50) # wow, that's pretty!
                lt(90 * 2)
                fd(40 + 80 * 2)
            
Nous voyons que la tortue est une super calculette ! Bien mieux que cet objet des années 80, crois-moi.
Remarque qu'à la dernière ligne fait avancer la tortue de 200 pixels, car dans une calculette, le × se fait avant le +, et donc 40 + 80 * 2 = 40 + 160 = 200, c'est la priorité des opérations.

Français ici !
penup/pendown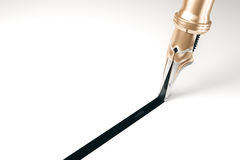 The new command penup(), shortcut pu() or up(), can lift the pen up, so that the turtle can move without drawing. We also have, pendown(), shortcut pd() or down(), to put the pen back down for more drawing.
What is this code doing?

                fd(25)
                penup()
                fd(50)
                pendown()
                fd(25)
            
color
The new command color("red") (beware of the quotes in "red"!) changes the color of the pen to red. Other colors exist like green, blue, yellow and many others.
To have all the existing colors, we go in Paint:
For this amazing orange, I will write the command color(253, 126, 0)
A lot of tools give the color hexadecimal code (hex code), for example I have a nice pink written #ff0060 that can be inserted using color("#ff0060") or color(0xff, 0x00, 0x60).

                fd(30)
                color("yellow")
                fd(30)
                color("red")
                fd(30)
                color(253, 126, 0)
                fd(30)
                color("#ff0060") # color(0xff, 0x00, 0x60)
                fd(30)
            
Let's notice that, if color(253, 126, 0) gives you an error, write colormode(255) at the beginning of your program.
Therefore, color is a mix of red, green et bleu and these components are often displayed in various forms. Let's take my favorite orange, it can be written... ¶
As percentages: 100%, 60%, 0%, meaning 100% red, 60% green and 0% blue.
As ratios: 1.0, 0.6, 0, ratios are between 0 and 1 and are more mathematical than percentages.
With integers ranging from 0 to 255: 255, 153, 0 because 153 = 60% 255 = 0.6 × 255 = 60 / 100 * 255.
With integers written in hexadecimal: ff, 99, 0 because 255 is ff in hexadecimal , 153 is 99 and 0 is 0. Often we write the 3 integers ff, 99, 0 attached on 6 characters with a # in front, like this: #ff9900.
And when both hexadecimal digits for the three components are equal, one does not repeat it: #f90.
Exercise 5: Two colored squares
Try to draw this:
Exercise 6: House in color
Or you can color your house, the door in red and the roof in green!
Keyboard shortcuts

Français ici !

No one needs a mouse when editing text — Robert Vanden Eynde

La souris, c'est lent, le pad c'est encore pire — Robert Vanden Eynde

Here is a list of the most useful keyboard shortcuts to edit text, those work even on Facebook, you don't have to read them but it's useful to write code very fast trust me!

Les classiques...

| Symbol | Use |
| --- | --- |
| ←↓↑→ | Arrows keys (touches directionnelles) move cursor. |
| ⇧Shift | Shift (Maj.) allows writing a Level 2 character, like the. |
| AltGr | AltGr (Right Alt) allows writing Level 3 characters (⌥ on Mac). |
| ⌫ Backspace | Backspace (Retour Arrière) deletes the character to the left. |
| Del | Delete (Suppr.) deletes the character to the right (sometimes ⌃Control+D sometimes Fn+⌫ on Mac). |
| ↵ | Enter (Entrée) inserts goes to the next line. |

D'autres classiques...

| | |
| --- | --- |
| Ctrl + Z | Undo (⌘ + Z on Mac). |
| Ctrl + C | Copy (⌘ + C on Mac). |
| Ctrl + V | Paste (⌘ + V on Mac). |
| Ctrl + X | Cut (⌘ + X on Mac). |
| Ctrl+⇧Shift+Z | Redo (Ctrl + Z inverse operation) (⌘ + ⇧ + Z on Mac). |
| Ctrl + Y | Redo (Ctrl + Z inverse operation)... in some applications that are not based on Linux (ie. bad applications in my humble engineer opinion, I can debate on that). (⌘ + Y on Mac). |
| Ctrl + F | Search! (Ctrl Find) (⌘ + F on Mac). |
| ⇱ Home | Aller au début de la ligne, peut être également combinée avec Shift pour sélectionner du texte. |
| ⇲ End | Aller à la fin de la ligne, peut être également combinée avec Shift pour sélectionner du texte. |

And now, the ones people don't know!

| | |
| --- | --- |
| Ctrl+→ | Next word (⌥+→ on Mac). |
| Ctrl+← | Previous word (⌥+← on Mac). |
| ⇧Shift+→ | Select a character to the right. |
| ⇧Shift+← | Select a character to the left. |
| Ctrl+⇧Shift+→ | Select a word to the right (⌥+⇧+→ on Mac). |
| Ctrl+⇧Shift+← | Select a word to the left (⌥+⇧+← on Mac). |
| Ctrl+⌫ | Delete previous word (⌥+⌫ on Mac), it's very handy to delete multiple words, you just have to hold Ctrl then press ⌫ Backspace multiple times. |
| Ctrl+Del | Delete next word (⌥+⌫ on Mac), same note as previous line. |
| Double clic | Select the word under the mouse. |
| Triple clic | Select the line under the mouse. |

It works everywhere even on Facebook! And let's notice that there is a Ctrl and Shift key next to the arrow keys so all of these shortcuts can be done with the right hand only!

Moreover, here are some useful shortcuts when you edit code:

| | |
| --- | --- |
| Ctrl+D | Delete a line (⌘+D on Mac). |
| Ctrl+⇧Shift+D | Duplicate a line (⌘+⇧+D on Mac). |
| Tab ↹ | Indent the selected lines. |
| ⇧Shift+Tab ↹ | Dedent the selected lines. |

It also works when you have multiple selected lines, this delete line shortcuts looks very silly but you have no idea how powerful it is...

And finally others that do not work on my site but that I recommend:

| | |
| --- | --- |
| Ctrl+⇧Shift+↑ | Move line up (⌘ + ⇧ + ↑ on Mac). |
| Ctrl+⇧Shift+↓ | Move line down (⌘ + ⇧ + ↓ on Mac). |

And really finally, while you're still here, here are my browser shortcuts (I ♥ tabs):

Ctrl + T
New tab (then I write my search) (⌘ + T on Mac).
Ctrl + L
Focus location bar (⌘ + L on Mac).
Ctrl + W
Close tab (sometimes, it happens) (⌘ + W on Mac).
Ctrl+⇧Shift+T
Reopen last closed tab (⌘+⇧+T on Mac).
Ctrl + F
Search! (Ctrl Find) (⌘ + F on Mac).
Clic milieu
Sur un lien, l'ouvrir dans un nouvel onglet.
Ctrl+Clic
Clic milieu
Sur un onglet, fermer l'onglet.

Et je pourrais encore parler de l'art de l'Alt-Tabbing moderne, du Control-Tabbing, du setting firefox pour l'Alt-Tabbing et son AltPageUp en main libre, du bouton Home, de la stupidité de la touche NumLock et CapsLock sous Windows, ou du déplacement furtif de fenêtres via Windows+←↓↑→.

Functions

Français ici !

In order to reuse some code, we can put it in a function. For instance, I will write a function square that allows me to draw a square.


            def square():
              fd(80)
              lt(90)
              fd(80)
              lt(90)
              fd(80)
              lt(90)
              fd(80)
              lt(90)
            

Write the code above and then the new instruction square() will be available! Then write the code below.


            square()
            lt(45)
            square()
            fd(50)
            square()
            

We can also add parameters to the function, thanks to them we can vary some part of the code, like the size of the square.


            def square(s): # s is the size
              fd(s)
              lt(90)
              fd(s)
              lt(90)
              fd(s)
              lt(90)
              fd(s)
              lt(90)
            

We will use it like this:


                fd(100)
                square(80)
                lt(45)
                square(40)
                fd(50)
                square(60)
            

You can name the s parameter as you want, like s, size, x, a or side_size.

We can add all the parameters we want, separated by commas, like def square(size, the_color).

We can do some maths like 50 + size * 2 - (size - 1), be careful of the priority of operations!

A little keyboard shortcut to shift lines to the right: select the lines you want to shift and hit Tab ↹. The reverse operation can be done via ⇧Shift+Tab ↹.

Exercise 8: House patterns

You can find the code of the house here, put in in a function with two parameters so that you can draw a house with one line:


                house(40, "red")
                house(60, "blue")
            

The parameters are the height and the color of the door.

Two different houses

Loops

Français ici !

In the code for drawing a square, we have four times the same code in a row


                fd(40)
                lt(90)

                fd(40)
                lt(90)

                fd(40)
                lt(90)

                fd(40)
                lt(90)
            

There exists an instruction that gives you the opportunity to say Repeat 4 times what follows, it's the for:


        for i in range(4):
          fd(40)
          lt(90)
        

Be careful to not forget the :, to enter a new line and to write at least one instruction.

What will be the difference with the following code? The only difference is the absence of few space characters but it changes the result a lot! Test it and understand why the rendered result corresponds to the code.


        for i in range(4):
          fd(40)
        lt(90)
        

Exercise 9: The hexagon

Try to draw an hexagon, do not hesitate to use the for to simplify your code!

Geometry of an hexagon

Exercise 10: Some triangles

Write a function triangles, that will draw the following shape, add the parameters size and the_color in order to call it like this:

triangles(20, "red")

With the help of loops, this figure can be drawin in less than 10 lines!

Exercise 11: The village

Use loops and your house function to create easily a village with two streets like this:

A village with two streets

Masterpiece

Français ici !

Exercise 12: Your masterpiece

Last challenge for that course, let your imagination go to create a nice drawing!

Here's mine, it uses my function triangles multiple times!

A drawing with a bike, a tree and some clouds!

It's over, we have learned to use turtle by programming in the python language.

There exist other turtle commands.

Videogames programming

Check here my videogames programming course to create some small 2D games! Currently the names of the files are in french only (I'm currently translating the content) but almost all words are almost the same in english (théorie is theory, exercice is exercise, etc.)

To know more

Here is an overview of other turtle/python functionalities.

We can create multiple turtles (python objects):


            bob = Turtle() # or Pen()
            bob.shape("turtle")
            bob.color("blue")
            bob.forward(50)
            alice = Turtle()
            alice.shape("turtle")
            alice.color("green")
            alice.fd(100)
            

And create variables dependent of the turtle.


            bob.displacement = 5
            alice.displacement = 10

            def forward_with_dashes(the_turtle):
              for i in range(3):
                the_turtle.penup()
                the_turtle.fd(the_turtle.displacement)
                the_turtle.pendown()
                the_turtle.fd(the_turtle.displacement)

            bob.lt(90)
            alice.lt(90)
                    
            forward_with_dashes(bob)
            forward_with_dashes(alice)
            

Or create list of turtles:


            the_list = [bob, alice]
            charles = Turtle()
            charles.shape("turtle")
            charles.displacement = 7
            liste.append(charles) 

            for the_turtle in the_list: #  for every turtle in the list  
              previous_color = the_turtle.color() # we save the color 
              the_turtle.color("blue")
              forward_with_dashes(the_turtle)
              the_turtle.color(previous_color) # we restore the prevous color 
            

Or write conditions to change the logic:


            penup()
            fd(-100)
            n = 0
            for i in range(45):
              penup()
              fd(20)
              pendown()
              fd(20)
              n = n + 1
              if n == 4:
                right(90)
                color("red")
              else:
                if n == 7:
                  right(90)
                  color("blue")
                else:
                  if n == 9:
                    right(90)
                    n = 0
            

Exercise 13: The variable village

Try to make houses with variable sizes:

A village with a lot of different house sizes

Bye bye and for any question, I'm available by mail via robertvandeneynde[at]hotmail.com